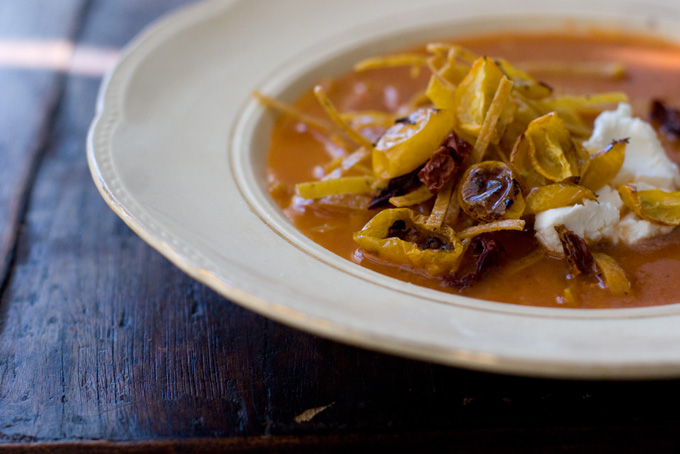 (image from 101cookbooks.com. Forgot my camera)
This week's soup of the week was another Cooking Light recipe for
Tortilla Soup
. This time I followed the recipe exactly, and it was delicious. Just like in Mexican restaurants. The recipe was supposed to make approximately 18 servings, so I figured I would be okay making it for our weekly Monday night "Family Dinner," which usually boasts between 8 to 15 people. I'm not sure exactly how many precious friends graced the table this week, but the pot was completely empty with about 3 people left eating leftover lasagna. (Sorry guys!) Nevertheless, It was, as always, a wonderful evening. I love our Birmingham "family" so much. If you live in the Birmingham area and have never made it out to monday night Family Dinner, the invitation is
always
open. Just call me first to see where it is that week.
In other news:
 Do you guys listen when I give you things to listen to? Well, a) you should, and b) after you listen to this one, you must talk to me about it.
This American Life
is my favorite NPR podcast. A couple weeks ago they had
an episode
, the first act of which was about
Harlem Children's Zone
in NYC and a project called "Baby College." A guy who grew up in Harlem, and later in life raised a family in the Suburbs, realized that the parenting culture is completely different in the two worlds. He started this program in Harlem that works with children and parents from birth all the way through chartered and incredibly involved pre-k, kindergarten, elementary, and high schools to college. His theory, which had Ira Glass completely convinced by the end of the segment, is that if we focus on children, especially in very early developmental stages of life, poverty can be completely stopped in one generation. It was really remarkable. 
The rest of the show also features a great musician we went to see on Monday night at Workplay named
David Berkley
. Check him out too.
Happy Wednesday!