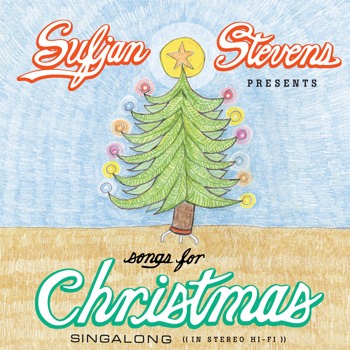 Our Sufjan Stevens
Songs for Christmas
album finally arrived, and we are JOYOUS! This is an amazing Christmas music extravaganza with over 40 fabulous Christmas songs new and old. There's really nothing better to get you in the Christmas spirit (although the Amy Grant Christmas album, and the Vienna Boys Choir will always have a special place in my heart.) Can I promote Sufjan some more? The songs from Christmas also includes . . . 
• Five individually packaged CD EPs!
• Five Christmas stickers!
• Extensive liner notes and short stories by Sufjan Stevens!
• An original Christmas essay by Rick Moody!
• An animated music video and comic strip by Tom Eaton!
• A Christmas Songbook with lyric sheets and chord charts--so you can sing along too!
• An original Christmas Family Portrait painting of Santa Sufjan (with wife and kids!) by Jacques Bredy
 . . . And you can get it all at Amazon right now for only $14.99! (I promise I'm not getting paid
for this plug, I just love it that much.) And after you pack up your Christmas decor and take down the tree, check out Sufjan's other stuff if you haven't already. It's good.
I wanted to post a music video from the album, but I can't do that at work, so stay tuned!!!